Improving the sound quality of your guitar not only involves using the best guitar amp or pedals but also the best guitar VST plugin. VST, also known as Virtual Studio Technology, is software that guitarists use to improve the sound quality of guitar recordings.
Whether you want to use your computer as an amp or record your own guitar tracks, these plugins will provide an impressive range of built-in controls and other effects to play around with.
There is a wide range of guitar plugins that provide you access to realistic pedal tones and amps. Below are some of the best paid and free VST plugins, both acoustic guitar VST and electric guitar VST, to help you find one that matches your needs. But first, what is a VST plugin, and how does it work?
What is a VST Plugin, and How Does it Work?
A VST plugin is digital software that lets you use audio effects and virtual instruments in a Digital Audio Workstation (DAW). This software generates the sound depending on the MIDI data in a DAW and can either be played manually or using a compatible keyboard.
So, depending on the plugin you download, you can either add it to a DAW or run the plugin on its standalone program. This means that you can either load your DAW, then add the plugin to a track, or run it standalone by connecting your audio interface.
Guitar VST plugins help in creating new sounds and improving the sound of a mix during the processes of recording and mixing. If you're someone who enjoys creating great melodies on your MIDI keyboard, then you will most likely find these plugins to be quite useful.
Here are some of the best guitar VST plugins, both paid and free options.
5 Best Guitar VSTs (Paid)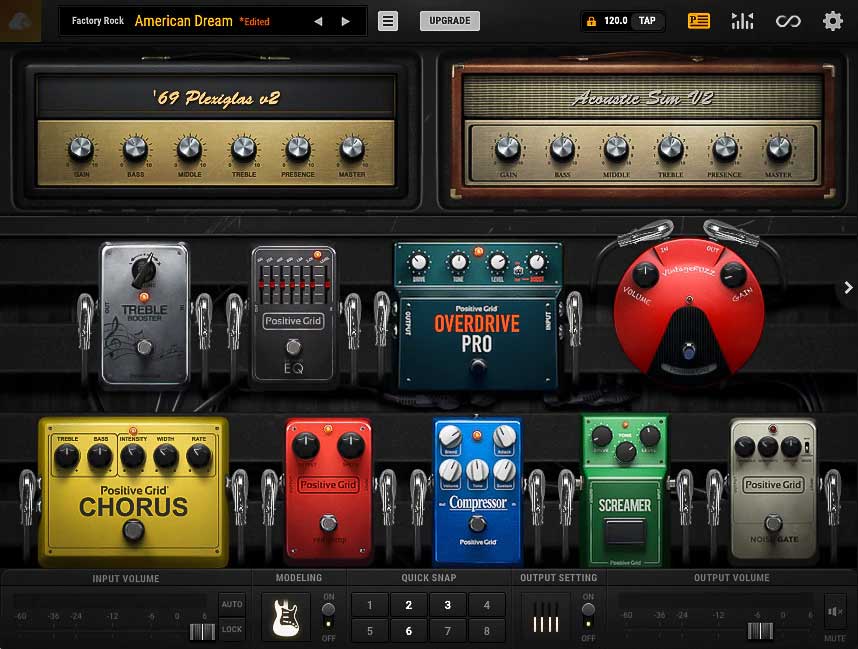 The BIAS FX 2 guitar VST plugin by Positive Grid provides you with a massive number of effects and amp models. Unlike other plugins, the amps and effects in this plugin are displayed in such a way that you will have no doubts about the type of amps or effects you're using,
This makes this plugin a great way to learn about the gear and rear pedals without the need to buy them. In addition, with the BIAS FX plugin, you can easily swap the pedals in an amazing to improve the guitar sound.
Moreover, you can easily create complex rigs which can be split into multiple amps and use stereo effects. You can also drag the amps or pedals around to create effects loops.
If you're looking to get the best quality effects and amp simulations with an easy-to-use interface and a high level of control over, then the BIAS FX 2 might be the best one for you.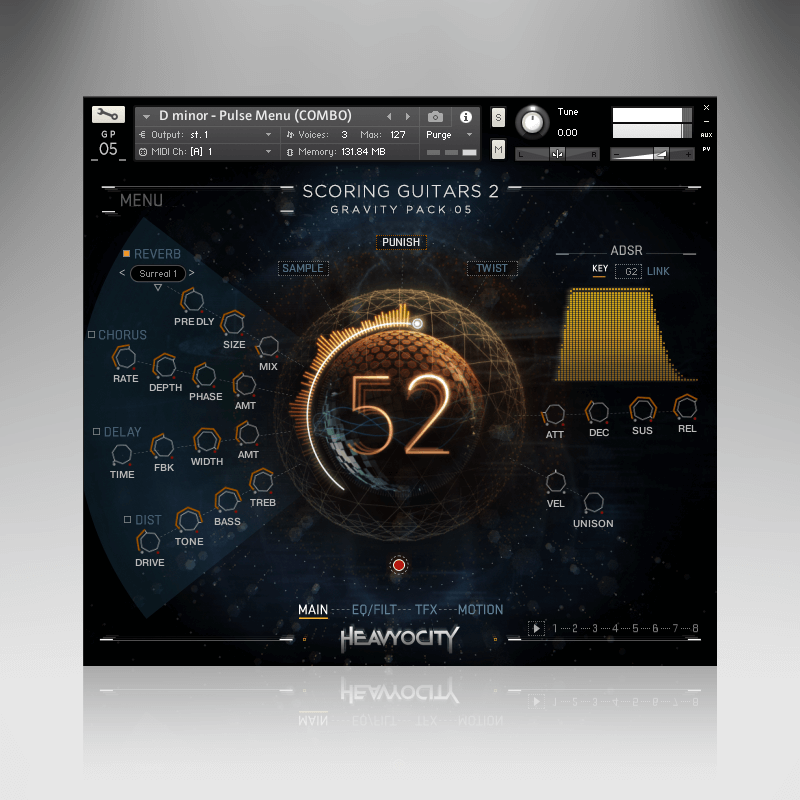 Heavocity's virtual instrument is geared towards the experimentation of a guitar's traditional sound and also applying it to a wide range of musical styles. It comes with over 380 sonic presets, including drones, rhythmic pedals, phrases, pulses, and pads.
Although it is aimed at filmed composers, it is a perfect program for crafting in-depth sound design and intense sonic spaces. This can serve as a company for your next post-rock song or be a general ambiance for a film or game score.
The Heavyocity Scoring Guitars 2 is one of the best orchestral or ambient guitar VSTs featuring over 5 GB of new production-ready guitar content. It delivers a pure analog vibe and ambiance as well as realistic sound from the best guitar amps and guitars.
The Native Instruments Guitar Rig 6 comes with both a paid and free version, depending on what you need. With the free version, you have access to two delay pedals, two equalizers, one pro filter, one tube screamer, an amplifier cabinet, a noise gate, a compressor, volume pedal, a reverb, a tuner, limiter, and more.
The big difference between the free and paid version is in the number of effects, amplifiers, and cabinets. It is an easy-to-use guitar VST for beginners. However, the free version comes with only one tube screamer, which means you won't be able to achieve aggressive and weighty sounds. This is why we recommend the paid option.
Furthermore, you can use this guitar software as a standalone virtual instrument. However, one drawback is that you will have to register before you can download this guitar plugin, you will receive a series, and then you can start creating unique sounds.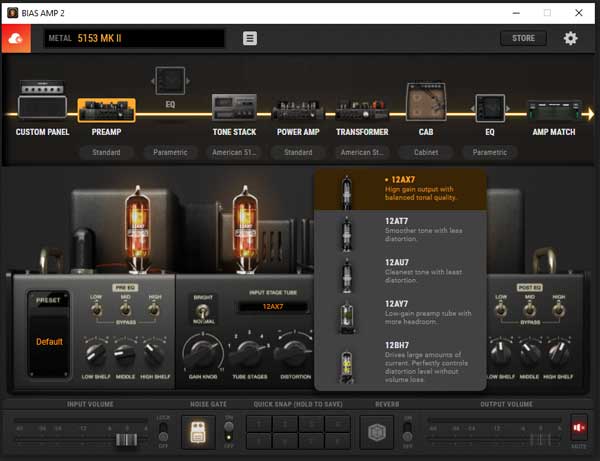 If you're a guitarist looking to tweak things and dig into the amp settings, then the Positive Grid BIAS Amp plugin 2 is probably the best option for you. Although this guitar plugin focuses on amps completely, you still get a wide range of amps that you can customize.
With this plugin, you can customize the power amp, transformers, and preamp as you like, swap out tubes, use different cabinets or tweak EQ at different points. In addition, you can easily switch out the different tubes and learn how the tubes change your tone.
An outstanding feature of this plugin is the amp matching which is when you allow the BIAS amp simulator plugin to listen to a recording of a great tone, then to the tone of your real guitar. It then samples both the guitar tones and comes with a way on how to replicate the amp tone.
It is a great plugin to learn how tube amps work and can improve your understanding of tube amps before buying one. Moreover, if you are hoping to create custom amps, BIAS 2 is the best option.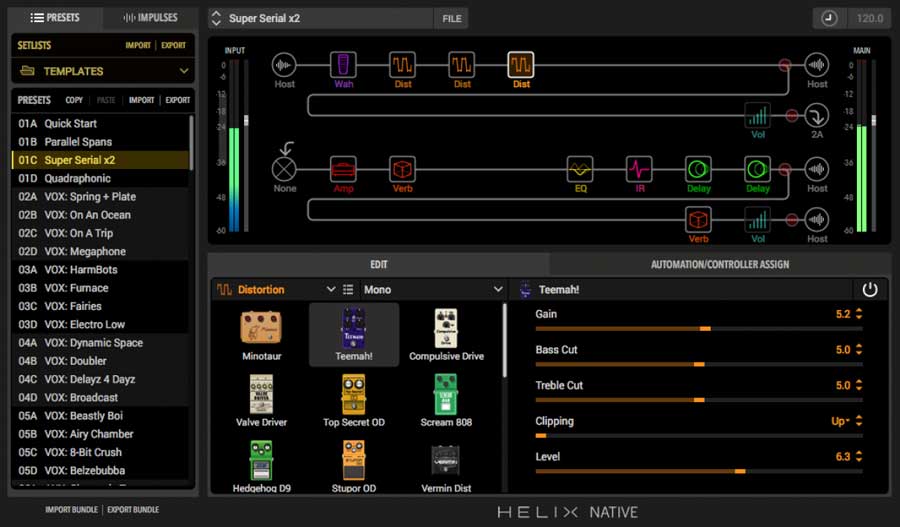 The Helix Native by Line 6 is basically the software version of a Helic pedalboard, and this means the plugin provides you the same amp simulation and effects uses in the pedalboard at a fraction of a price. In addition, this plugin uses the same color, interface, and logos as the Helix interface.
Helix pedal owners will be able to instantly dive in and quickly figure out how to use the plugin. However, the interface is not the easiest for new users because it works a bit differently, but it becomes easier when you get used to it.
Apart from that, this plugin produces a great sound quality of the effects and amps. You also get access to an improved range of amps and effects to help you create full rigs easily. Furthermore, this plugin comes with the ability to use impulse responses that extend the range of guitar sounds you can create.
5 Best Free Guitar VST plugins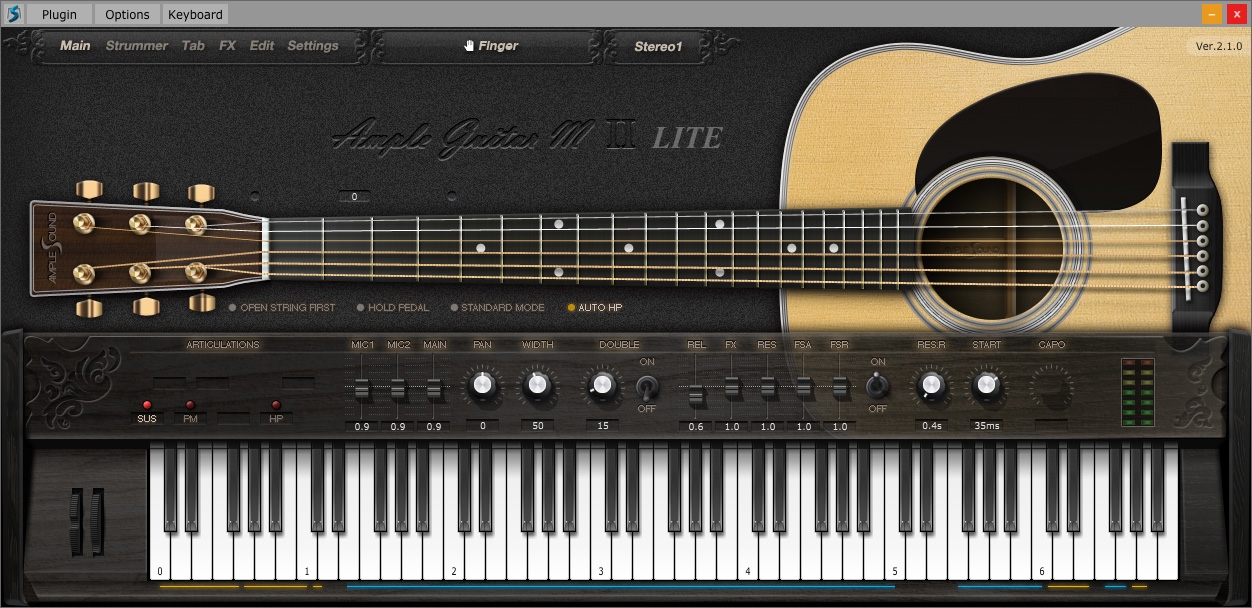 The Ample Sound Guitar M Lite II free plugin can emulate the sound of acoustic guitars to give a warm and rich tone full of detail. This plugin stands out because it is close to a real acoustic guitar, bridging the gap between a virtual guitar and real guitar.
Apart from the amazing sound this plugin provides, you also have the option of adding effects. There is a noticeable amount of expression and variation in every note played, and the sonic imperfections create a realistic experience.
The IK Multimedia Amplitube Custom Shop is a free virtual guitar instrument that boasts a lot of great features, including tuner, delay, overdrive, chorus, equalizer, compressor, three amplifiers, tremolo, cabinet, and volume pedal.
This plugin can also be used as a standalone program, and it also has a paid version, but if you're a beginner, we recommend the free version. However, you may have to register before you can download, but since it is a free one, that is a minor inconvenience.
Haunted Guitar Lite by Electronik Sound Lab was made using a multi-sampled Fender Stratocaster Plus Deluxe Electric Guitar VST that resulted in some atmospheric guitar sounds. This free guitar VST comes with a huge range of preset tones that are perfect for drill and hip-hop beats.
It also comes with additional options, for example, several filter types. So if you're looking to get darker and moodier guitar sound with a range of different controllable parameters, the Haunted Guitar Life is a fantastic choice.
The SimulAnalog Guitar Suite is another best guitar VST that is not only free but also produces a great guitar tone with a few amplifiers and pedals. With this plugin, you can get a wide variety of sounds.
Moreover, you can even emulate sounds from the Marshall, Univox, Fender, Oberheim, and more. However, this guitar will only work with a 32-bit system, and the interface is a bit harder to figure out, especially for a beginner.
If you're never tried impulse responses, you will be surprised with how impressive they sound when used correctly. An impulse response is a way of capturing the characteristics of a guitar mic, amp sim cabinet, and room environment to recreate it digitally in your DAW.
To use an impulse response, you need an impulse loader plugin. The Lancaster Audio is one of the best free impulse response loader plugins that has impressive features like A/B control, multi-platform, and compatibility will all third-party IR's.
Factors to Consider Before Choosing the Best Guitar VST Plugin
1. Type of Plugin
When it comes to the guitar VSTs, there are different types where some of them can be played while others are strictly samples. However, for most people, the best guitar VST plugins are actual virtual instruments which means that you can easily play them using a keyboard. You need to also choose between electric guitar plugins
2. Library Size
If you're buying a paid guitar VST, you want to ensure that it comes with a large library. This is because when you have a large library, you will be able to find different presets to use.
3. Realism
While some plugins can capture the realism of an acoustic guitar, others are just flat. However, over the years, most VSTs have improved such that their sounds are very realistic.
4. Articulations
In most songwriting sessions, the articulations that the plugin can perform have proven to be very important. This is because the more strumming the bends and patterns are, the better it is in terms of capturing dynamics.
5. Compatibility
It is crucial to ensure that the guitar VST is compatible with all the major DAWs. This is because it will allow you to use them immediately after downloading.
Frequently Asked Questions (FAQs) on Guitar VSTs
1. How do I install a VST plugin?
There are different ways to install a VST plugin depending on the computer's operating system and the file you get from the creator of the computer. For example, you will come across an installation .dll file or .exe file on most Windows computers.
These installation files can be installed by double-clicking and running the installation, while .dll files can be dragged into a VST plugins folder. However, Mac computers work a bit differently.
You can either manually copy the .au folder into the audio units directory or run a .dmg file to install the plugin automatically. Moreover, some plugins may require an activation code or serial number when logging into the service.
2. What is a MIDI guitar VST?
A MIDI guitar VST is similar to the way you would load up a MIDI drum VST when making a song in your DAW. However, instead of using a MIDI track or MIDI keyboard in your DAW to trigger drum samples, you will be triggering guitar samples.
The best guitar VST is made of thousands of these samples that include snapshots of the guitar sounds at varying positions and velocities. Most of them have settings for adjusting pickups and adding string squeak and bends to make actual guitar sounds.
3. Are Virtual Guitars plugins worth it?
Yes. A guitar plugin will sound great and consistent at any volume during music production, unlike the amps that will only sound their best when the volume is high. Furthermore, these plugins are relatively affordable and versatile compared to real amps.