Pianos are one of the best musical instruments in the music industry, although they tend to be very pricey. However, with the current technology, musicians are now able to use one without having to buy one.
A piano VST plugin is an effective tool for almost every genre. It can make your keyboard sound like a grand piano. With the VST plugin, you will only need a MIDI controller keyboard, preferably with 88 keys.
There's no piano hardware used, and the sound is generated through the software. The piano VST is a simple and convenient solution for playing the piano. Below is a guide to help you understand more about VSTs and also help you choose the best piano VST.
What is a Piano VST plugin?
VST, which stands for Virtual Studio Technology is an instrumental plugin that is hosted in a Digital Audio Workstation(DAW) on your computer. It was established by Steinberg Media Technologies in 1996 as a way of adding effects to audio tracks.
It has upgraded the computer from being an audio recorder and a MIDI(Musical Instrument Digital Interface) sequencer to being an established mixing, audio recording, and producing platform. Since it was released in an open format, other companies adopted the technology and started writing the VST effects or instruments.
The VST instruments are sometimes referred to as samples. These samples usually have a library bundle known as a sample library. For you to connect to the library, there is a program known as a sampler that hosts the sound patches. You can think of them as folders that have sampled sounds.
These sample sounds are created by people who record a single note of an instrument in a number of different ways. Most samples are usually standalone, which means you don't need a DAW, so you can easily play and hear them.
In addition to that, there are also some VST instruments that come with standalone versions that won't need any additional software. However, it is important to note that you'll most likely need a DAW to record and edit your compositions.
What Do you Need to Use VSTs?
To use any VST, you need the following;
A computer/ Laptop: The computer should have at least 10% of its storage space empty as well as a RAM of at least 16GB. The storage space will allow you to download samples that need a lot of space. RAM will also ensure you work effectively and faster.
A MIDI keyboard or a Digital piano- It has to be either a traditional MIDI connection or have a USB Type B port.
DAW is recommended
Headphones or monitor speakers
An internal SSD to replace the hard drive of your computer and an external SSD to store samples(optional).
Reasons Why You Should Use VSTs
If you don't like the present sounds on your digital keyboard or are looking to improve your sound palette, then VST instruments have a range of options for all your recording needs.
You can also use the digital piano as a MIDI controller. This allows you to play piano notes as your computer outputs them as other instruments via VSTs.
You have the power to change, move around and remove notes while experimenting. This means that you can move the MIDI notes in your DAW in order to transpose the sound instead of re-recording the original performance and playing in a different key.
Finding the Best Piano VST
Finding the best piano for you depends on what works for you and the project you're planning to work on. Here are some of the piano VST plugins features you should consider;
1. Compatibility
You will find that most of the keyboard instruments will work with both Windows and macOS, but that doesn't mean that the plugin will seamlessly integrate into your system. There are VST factors that should also be considered when it comes to compatibility. These include the CPU type and speed, storage space, and RAM.
VST instruments might include plugin formats such as VST, AAX, AU to make sure it is compatible with multiple DAW. It is crucial to check the requirements and compatibility of the piano Virtual Studio Technology before buying one.
2. The Usage
The best piano VST is one that perfectly matches the project you will be working on. Consider questions like; Do you prefer working with presets or you would like to tweak the sounds? Are you looking for a VST that handles a specific task or a sample player with a vast library of sounds?
3. User Interface
You can find a good VST instrument, but the only downside could be it has a very complicated interface. This is an issue to many but for some, the interface doesn't matter. Ideally, the production of piano music should feel easy and fun.
A user-friendly interface will also give room for creativity to try out new effects and sounds. A layout that is challenging may not be the best piano VST plugin for you.
4. Sound
Working with a piano VST sound that is close to what you're hoping to achieve makes work easier. Spending too much time trying to tweak a sound that was off from the start, can be overwhelming. The best piano VST should be sounding good to you and be in line with your project.
5. Price
The best piano VST should be one within your budget. Luckily, there are both free and paid piano plugins to fit everyone's budget.
The Best Piano VST Plugins
Are you hoping to find the best piano VST plugins to use for your productions?
If so, you may have already realized that there a lot of choices for piano VST plugins all over the internet, with each having its pros and cons. Finding the best one can be a challenging task.
However, it would be best if you found the right VST to match your production style. This is because every piano VST plugin has a timbre, and each timbre is best used for different production styles. This is why, to achieve the best results, it would make sense to choose a piano VST that perfectly matches your production needs.
So to help you find it, we have a review of the leading piano VST plugins, both paid and free.
Top 5 Paid Piano Virtual Studio Technology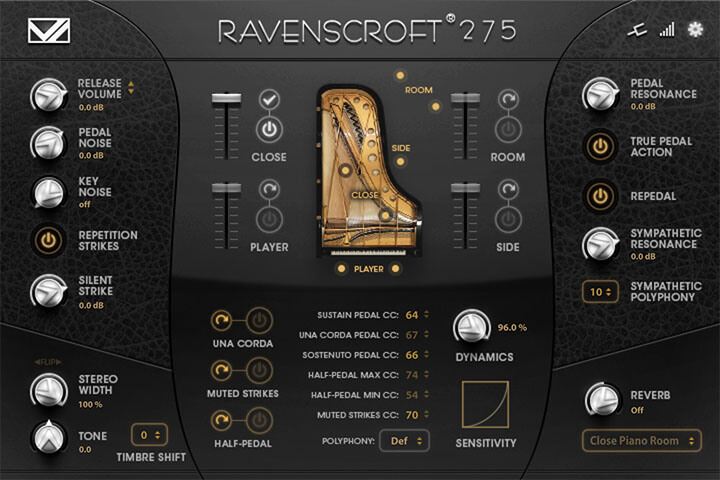 While the Ravenscroft 275 piano is entirely sample-based, it boasts great RAM and CPU resources. It has been created using four microphones (player, close, room, and side) and uses about 17,000 samples recorded on the piano. The four microphones allow control in microphone placement which can all be altered.
It has been recorded from Model 275 Titanium concert grand and has a total of 19 velocity layers. The versatility of this is unmatched, and the extended dynamic range allows soaring fortissimos and delicate passages. It can mix into an ensemble or pull off passages and fits a number of playing styles.
With this VST, you have complete control over key noise, pedal noise, release noise, silent strikes, and half-pedaling. You can also adjust the tuning of a note if you're looking to experiment with the tunings and tonal centres or get atonal passages. Also, the volume of the pedal resonance, true pedal, and re-pedal are adjustable.
You need a storage space of at least 6GB to install the sample library and a RAM of at least 4GB, depending on the number of samples you have stored. If you are looking to get a more significant library collection, then 16GB RAM or above would be the best.
The Garritan Abbey Road Studios features a Yamaha CFX concert grand, sampled, and recorded at Abbey Road Studios. It also features an ARIA player, which means you won't have to buy a sampler separately. The library has various presents and up to 20 velocity layers.
As with the Ravenscroft 275 by VI Labs, this VST also comes with a convolution reverb which means you won't require a separate reverb plugin. It is compatible with Windows 7 or later and Mac OS 10.10-10.14, and a soundcard with ASIO.
The sound quality of the piano presents blends perfectly with an orchestral environment. You will require at least 133GB of storage space and a RAM of 8GB. Moreover, the system requires a faster interface hard drive as well as a multicore processor.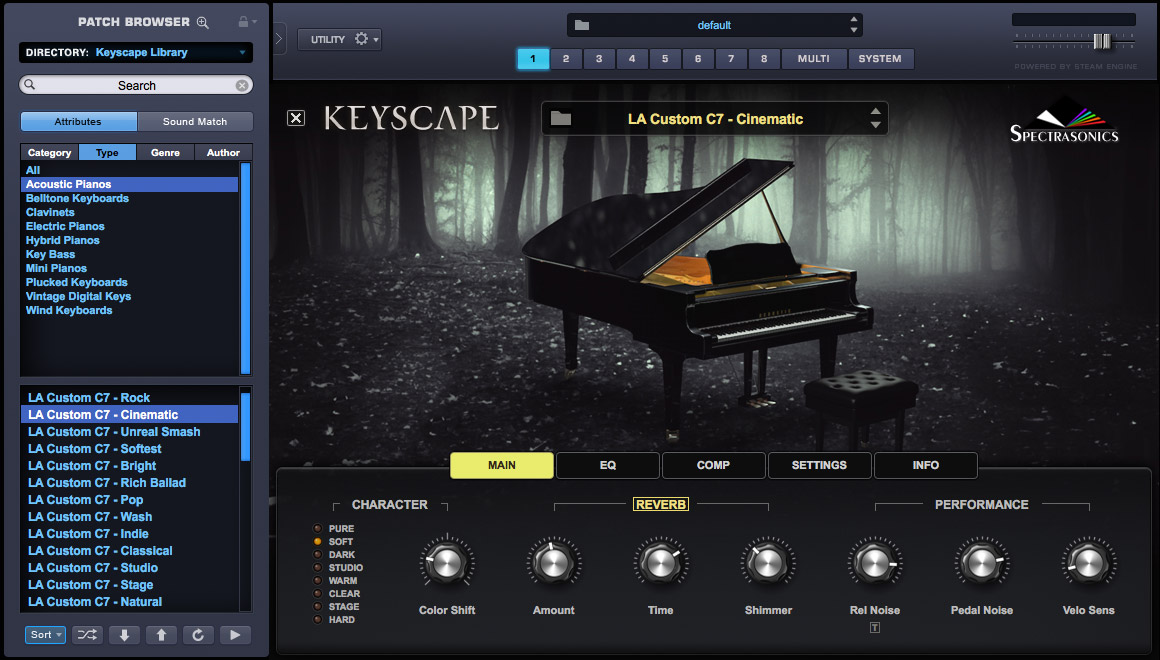 When it comes to VST versatility, this is one of the most versatile paid libraries available. It features a large library that has over 500 piano sounds and 36 instrument models. It also features a collection of electric pianos, grand pianos, and upright pianos.
A standout feature of the is the Yamaha C7 grand piano, which is the primary piano sound, is that it is embedded with Renner Bluepoint by using a Wicker felt. This ensures good sound quality and a broader tonal spectrum. The sound includes up to 32 layers of velocity.
Keyscape requires a storage space of at least 77GB and a RAM of 8GB or higher. An external SSD is recommended to make it easier to run it on your system. A high processor of at least 2.4GHz intel dual is recommended because this VST is heavy on the CPU. It is compatible with Windows 7 or later and Mac X 10.10 or later.
The Synthogy Ivory II Grand pianos feature library samples from three different grand piano models that are Yamaha C7 grand, Bosendorfer 290 imperial grand, and Steinway D concert grand. It has up to 18 velocity layers which give a large dynamic range.
It has a Sustain Resonance engine that allows half-pedaling, and you also get an option to disable or enable the pedal noise. The lid is adjustable to give more freedom. This three-in-one VST plugin bundle also features a wide range of presets such that one is able to preview the pianos in different recording environments and also adjust the nuances.
The Harmonic resonance modeling is also incorporated to project overtones of the notes that are held. The Synthogy Ivory II VST plugin requires a minimum storage space of 22GB and at least 1.5GB of RAM. The three grand pianos have a total of 77GB sample instruments, although you can install every piano separately.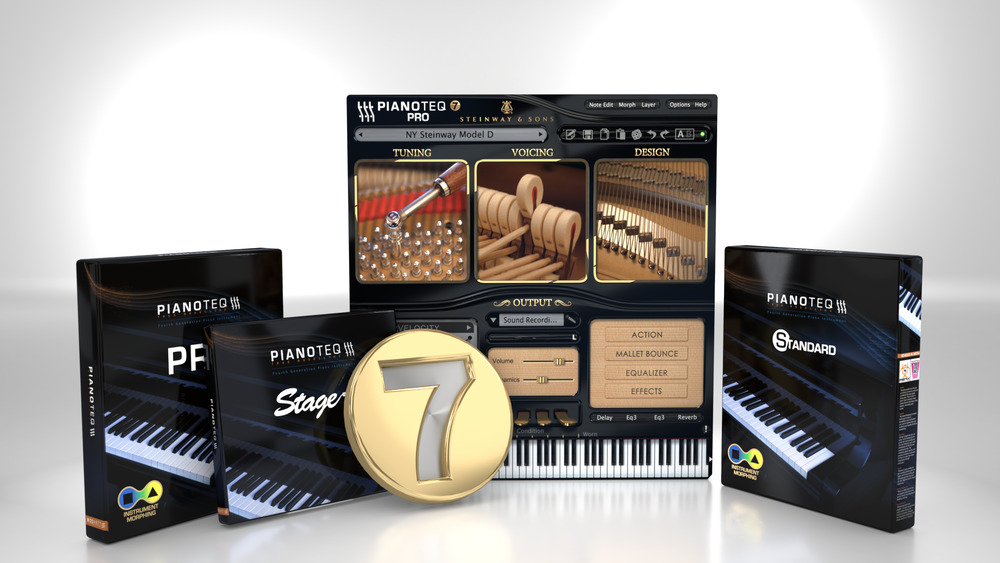 Unlike most sample libraries, The Modartt Pianoteq doesn't require a lot of RAM or storage space. With only 256MB of storage, you can work effectively. It is used both as a plugin within the DAW or as a standalone. The Pianoteq 7 has a number of exceptional options available for sound tweaking. They include pedal noises, hammer noises, hammer hardness, duplex scale, microphone settings, sympathetic resonance, string length, advanced tuning, etc.
There are about 16 velocity layers, however, the Pianoteq uses all the 127 layers, which means a broader dynamic range. It is modeled off the Steinway Model D and B, which is one of the best pianos. You won't require a physical pedal, you can instead use the keyboard's built-in pedal.
This piano software supports a Windows 7 or above, Mac OS X 10.7 or later, and Linux x86 ARM. The Pianoteq 7 VST can be used with any type of MIDI keyboard and doesn't require a USB or iLok dongle. You need a soundcard that supports ASIO drivers, which means you can use the built-in card.
Top 5 Free Piano VST
The Piano in 162 is the best free piano VST. Its sample library is from Steinway Model B grand piano model and includes five dynamic levels, separate, separate on/off pedal samples, and also two round robins(the number of samples per note). It was recorded through two pairs of Rode NT5 cardioid microphones, a close pair inside the piano and an ambient pair in the hall.
To improve the realism of the sound, the Piano in 162 VST plugin will select a random sample every time the user plays the note. However, you will require a sampler to run the library. It is compatible with Kontakt or Plogue Sforzando that runs sfz files(text files used to store instrument data for the software synthesizers.
The Spitfire LABS soft piano boasts free software instruments that are created by sampling experts and musicians in London. It is one of the best piano VST plugins that are free and constantly updated with new sounds. It was recorded using a thin felt between the hammers and strings to give a great sound.
With its user-friendly interface, it is a recommended piano sound for a lot of professional composers. This VST plugin gives a warm tone. Actually, a number of musicians have used it to write an entire album of piano music.
The Versilian Upright piano is another excellent plugin that was sampled in tritones by the use of close and wide mics. It comes with built-in reverb and panning, as well as ADSR controls. This Upright piano VST plugin is considered a lightweight sketching plugin, but it is a great representation of a classical piano.
This Upright piano plugin has three velocity layers and two round robins. It features full decays of up to 30 seconds that offer incredible versatility if you use a sustain pedal. A great tool to bring of bringing originality to your piano music.
If you're in search of a plugin that gives distant and excellent sounds, then you should consider downloading the Atmos Piano plugin. It is a perfect choice for a cinematic bed or an intimate ambience. You get a large 2.4GB with approximately 241 samples.
It comes with two microphone sources that blend together with the release and decay parameters. Don't miss out on this free VST plugin, especially for those looking to create ambient and atmospheric piano sounds.
The Soundmagic Piano One has been sampled from Yamaha C7 concert grand and uses its hybrid modeling engine to capture the sound of the Yamaha C7. It comes with a significant number of controls that allow customizations.
Some of the essential features of this piano VST plugin include tuning systems, piano noises, audience, and player perspective. The sound quality is crisp and realistic. This plugin is a great combination of realistic sounds and the playability of the model.
Frequently Asked Questions(FAQs) on VSTs
1. How can I make a MIDI piano sound more realistic?
Here are some tips to help you make your MIDI piano sound realistic;
Use the sustain pedal
Add some groove
Ensure you select the right piano samples
Even the volume of the piano track using compression and limiting
Use the reverb and delay feature to add space
Ensuring you have the right velocity
2. Is the piano the only VST instrument?
No, there is a wide range of sampled sounds available and piano VSTs are just one of them. They are categorized as synthesizers and electronic soundscapes, orchestral samples, rock and jazz bands, and other sound or instrumental effects.
3. Which is the best piano VST?
The best piano VST plugin is the Ravenscroft 275 by VI Labs. This is because it gives realistic sounds, doesn't require a lot of storage space or RAM and you have complete control of certain features. Other piano plugins that are great include Garritan Abbey Road Studios CFX Concert Grand Piano and Spectrasonics Keyscape Virtual Keyboard.
However, if you're on a budget and looking to find the best free piano VST, some of the best ones include Ivy Audio Piano in 162, Spitfire Audio LABS Soft Piano, and Versilian Studios Upright No. 1.
4. How many instruments are found in a library?
The number of instruments will depend on the VST instruments you're buying. The more instruments you get in a library, the more expensive it will be. Remember to always check how many instruments are included in the VST.
5. Does a bigger size (more GB) mean better quality?
No, the size indicates the number of samples was recorded at separate dynamics per each key. Simply the more samples recorded, the more dynamic the piano sound would be. However, this is not always the case because there are other important factors that might affect it.